Essay
MAGM Catalogue Essay - OUT OF THE SHADOWS - 12/04/11
Banksia, 1976
Linocut  25 x 25cm
Linocuts, woodcuts, silkscreen fabrics, paintings and collage comprise the major part of Bruce Goold's art history. His is a bold, narrative-laden art where a wide range of information catapults out of the shadows to illuminate the printed surface, the story, the event, or often a combination of all three. 
The images are a result of acute observation, a love of nature and a vivid imagination. Goold's is an artistry of great strength, infused with energy and drama, which are clearly evidenced in the way he treats his principal resource, the block print.  Bruce sees the process of printmaking as giving him the ability to be a detached observer of his own work.
B.G. A successful block print can hang in the street and not look amiss. Since the inception of the alphabet for block-printed publications and the subsequent hand-engraved illustrations that accompanied them, text and image have a matching strength. As a visual vocabulary the block-printed illustration can be understood in the same way as the written word: proclamations, posters of all sorts – 'Wanted', circus, travel. Hand-printed images designed to strike attention appeal to me. Dating from early Chinese block prints and Coptic textiles to graphic French posters, the block print has a timeless authenticity.
In Goold's prints we see a technical assurance and an obvious delight in the medium, the craftsmanship ranking equally with the artistic expression. His still-life images seem to burst out of their frames, and his free-flowing hand has a freshness that belies that of the traditional print-maker. Symbolism is important and whimsical touches abound.
EARLY DAYS, NEWCASTLE
Strelitzia nicolai 1985
Hand coloured linocut  50.5 x 42cm
Bruce's first taste of art was in his home. His father Wilfred trained with Archibald prizewinner Henry Hanke before enlisting in the Royal Australian Air Force and serving as a Spitfire pilot during WWII, for which he was awarded the Distinguished Flying Cross. Wilfred kept some excellent sketchbooks during his service in Burma, assured pencil drawings of the tropical landscape, the Burmese locals and fellow airmen.
 On his return to Newcastle Wilfred took over the furniture business, married Phyllis, his pre-war sweetheart, moved to the family holiday house on the shores of Lake Macquarie and started a family.
B.G.: I still remember the lake, the octopus nest at the end of the jetty, swimming with my brother and sister and the Catalina flying-boats landing at Rathmines on the other side of the bay. I think that's why I am attracted to Pittwater. We moved closer to town in the 50s, the leafy bushland suburb of New Lambton.
My father's stylish and artistic bent turned the conservative furniture store into a cutting-edge design showcase, selling the popular Danish and Swedish styles of the 1960s: Grant Featherston chairs, Thonet bentwood, hand-printed fabrics and wallpaper, many of which have since becomes classics of 20th century Australian design.
Bruce's grandfather W.J. Goold founded Goold's Pty Ltd in 1929. He was a well-known authority on the area, (he founded the Newcastle Historical Society), and kept a private museum in the large billiard room in the fernery at the back of the house. This contained scale-model ships, maritime embroideries, convict leg-irons, aboriginal boomerangs and documents of research for his journals. Though Bruce was only twelve when his grandfather died, this powerful room left an indelible impression on his imagination, and he inherited a similar passion for collecting ephemera, which continues to inspire his art.
 Wilfred Goold taught young Bruce the rudimentary drawing skills, and he would pore over art books and Classic Comics bought by his father at Central Station on his trips to Sydney. Bruce loved to draw and paint, inspired by these often derided quick-fix illustrations of novels by famous authors.
Sent to board at Sydney Grammar, Bruce was encouraged by his art teacher, the ceramicist and potter Gordon McCausland. He tells of sitting under a poplar reading Gombrich's History of Art by himself, or drawing Molnar-inspired beatniks in the back of his exercise books. He was the only student at the school studying art for the then Intermediate Certificate. Gordon would take him on regular trips to the Art Gallery of New South Wales, and taught him cold casting using fiberglass resin, and other experimental techniques.
ART SCHOOL
Magpies 2005
Hand coloured linocut  28 x 28cm
We see Bruce now enrolling at the National Art School in Newcastle in 1966, swapping the grey school uniform for a duffel coat, and swept into the liberal and bohemian world of the 60sart student. John Passmore had been the director of the school and his well-known 'Bathers' series', sketched around the port of Newcastle, reveal a strong influence of Cézanne. This seemed to be the style of painting required if you were to receive the diploma in those days. Bruce pored over the books in the art school library, and in his second year went through a Bacon phase, a Hockney phase, a Dubuffet phase, then a Beckman phase, before doing his first linocut, a nude after a life drawing.
B.G.: I became a somewhat messy expressionist and disruptive element, and left the school after two years, taking to the road and ending up in Melbourne in the 'Swinging 60s', seeing Bob Dylan, and experiencing a different culture and 'life on my own'.
Returning to Sydney, Bruce enrolled again at the National Art School, but 'the times were a changing' in society, music and art. After a year at the East Sydney Technical College, Bruce left and moved to rustic Balmain in Sydney's inner west.
B.G.: Living in the boatshed of a New Orleans style house on the shores of Mort Bay, I worked for Elaine Townshend, of Cash Palace fame, who sold vintage clothes at Paddy's Market. She gave me a silk top hat and tails, and I spruiked for her. 'Sergeant Pepper's Lonely Hearts Club Band' was in the air, and the English pop artist Peter Blake's collaged Beatles album cover informed a new way of dressing.
THE YELLOW HOUSE
Van Gogh's Chair 1990
Hand coloured woodcut  29 x 22.5cm
Mambo T-shirt design for Van Gogh Exhibition
In the early 1970s the Clune Galleries in Pott's Point, Sydney was empty, and the intention was to redevelop the site. Meanwhile the owner, Ian Reid, gave artist Martin Sharp a free hand to have 'one last show' before demolition.
B.G.: Martin had returned from London with a fabulous collection of large perspex paintings: Jimmy Hendrix, Mickey Mouse, lurid enamel paint sandwiched between layers of perspex and illuminated by spinning lights; mirror framed collages cut from art books; foil screen-print rock posters for Rolling Stones concerts, Cream, Ginger Baker, Bob Dylan. The opening night of the exhibition, hung in the elegant but condemned gallery accompanied by the latest music, was a triumph, with masked waiters serving wine to the well-heeled artistic Eastern Suburbanites, glamorous flower children, art school dropouts, and amazed friends. Martin became the Ambassador Plenipotentiary to the drab court of Sydney Art, bringing the heady world of 60s London culture to Australia via Pott's Point.
This was the seed that inspired a year and a half of exhibitions, happenings, music, experimental film and performance in this multi-media art space which, along with the grand adjoining terrace, became known as 'The Yellow House'.
This was a tribute to the sunflower decorated studio and house set up by Van Gogh in the South of France in 1888 to attract artists to join him in painting and celebrating creativity; Gauguin, sadly, the only one to do so.
Swept away by the opening, Bruce returned to the gallery next day, and was spotted walking down Macleay Street by Martin Sharp, sitting in the elegant Mrs. Beaton's Tent restaurant having lunch. The maître d' fetched Bruce in and Martin outlined his Yellow House dream, exhorting in Ruskinish tones that 'Beauty was essential', and asked Bruce if he would like to contribute.
As his vision grew, Martin Sharp was joined at various times by an eclectic group of artists, film-makers and actors, avant-garde luminaries of the Sydney scene, all working to turn the dream into reality: George Gittoes, Mick Glasheen, Peter Kingston, Jon Lewis, Tim Lewis, Albie Thoms, Greg Weight, Dick Weight, Brett Whitely and Peter Wright, to name but a few. Bruce would go each day to the gallery; one morning, spotting a collection of hinged cedar drawing-room doors removed from the main building and dumped in the courtyard, he joined them together to line the walls of a small outhouse, painted and gilded them, and named the resulting room 'The Doors of Perception', after Aldous Huxley's popular book.
B.G.: I remember showing Barry Humphries over, when it was completed, and he wanted to open one of the mystical doors to see what lay behind, which of course you couldn't do, and he was quite disappointed.
Martin Sharp was impressed with Bruce's decorating skills and invited him to create the Belgian Bourgeois Interior for the collection of Magritte lithographs that Martin had brought from Paris.
B.G.: The walls were painted sky blue with Magritte clouds. I draped a huge pencil-fringed velvet theatre curtain I'd found, covered a couch in a polar bearskin rug, from the storeroom at Wirian, Martin's grandmother's mansion in Bellevue Hill, creating an opulent salon for the collection of Surrealist objects. I hung Eduardo Paolozzi screen prints up one staircase and vintage movie posters down another.
Bruce spent his days helping to transform the house into what he calls 'a maze of enticing interiors' reminiscent of Herman Hesse's Magic Theatre, Kurt Schwitters's Merzbau.
B.G.: When it opened to the public, many were confused as to whether it was a gallery, a King's Cross offshoot of Luna Park, or a surreal set from Dali's dream sequence in Alfred Hitchcock's movie Spellbound. After creating their environments, some of the contributing artists became exhibits themselves: private bedroom doors were opened by the inquisitive only to reveal a preTracy Emin mattress installation of domestic neglect. Sometimes I was the vendeuse, hoping to sell the framed art, sometimes Virgil, guiding the uninitiated through the labyrinth of rooms.
Returning one afternoon, Bruce found the elegant mirrored doors of 'The House' chained through their art nouveau handles, an eviction note from the sheriff pasted for all to see.
B.G.: The Yellow House ceased to exist. Its heyday had passed and Martin and most of the contributing artists had left, the roof was leaking, wires exposed. As well as an art shock, there was a good chance of electrocution. It was time to leave.
The Yellow House was recreated for an exhibition at the Art Gallery of New South Wales in 1990 to celebrate the 20th anniversary of its inception. As Joanna Mendelssohn noted in the exhibition catalogue:
Much of the art they made, and the performances they staged were transitory, but the influence of those days lived on, affecting the future lives of the young artists and those who came to see them.
PENUMBRA II _ A SHADOW PLAY
Banksia, 1976
Linocut 25 x 25cm
Bruce then stayed with the Whiteleys at Lavender Bay and helped Brett prepare for his exhibition, 'Portraits and other Emergencies' at the Bonython Gallery. A portrait of Bruce and his good friend Bliss was included in the show. Brett and Wendy's friends from Ireland, Noel and Liz Sheridan and family, came to Sydney to stay with them at Lavender Bay and Bruce moved on with the Sheridan's to rent three shops with a maze of upstairs rooms in Elizabeth Street, Surry Hills. It was around this time he met his wife, Kate.
Bruce's 'gallery' shop, for curios and window installations, had been a delicatessen/milk bar. He kept his clothes in the chrome ice-cream bins and slept out the back on 'Francis Bacon' purple chaise. They were always going to auctions and buying some fabulous stuff to use and sell. Liz Sheridan ran the other shop selling Delft and high quality junk, and Noel Sheridan was in the middle silver-floored workshop. No longer a painter, Noel was to become a leading precursor of experimental and post-object art in Sydney. 
B.G.: Unbeknown to the outside world, a strangely ancient, newly interpreted
world of shadows was forming on Noel Sheridan's dream screen. Noel had written the shadow play Penumbra to be enacted behind vast white Holland blind screens with: objects, skilled lighting and a couple of shadow actors, in the style of the pre-cinema French phantasmagoria and tableaux vivants. Set in some indeterminate film noir period, I played The Guy, dancing with a bentwood chair to the Inkspots, strangling my unfaithful lover with her scarf as we tangoed to the strains of 'Jalousie'. Fantastic shadow images were painted with light across the screen, velvet-textured greys, eerie green and red spots illuminated a birdcage, a hanging lamp, and the wicker mesh on the chair. When it was first performed at the Central Street Gallery, Noel enlisted some artist friends, including the imposing John Firth-Smith, to burst through the gallery doors dressed in balaclavas, as the IRA, and interrupt the performance. Noel, the director behind the screens, rolled up one of the blinds and yelled something about not mixing politics and art and told them in no uncertain way to get lost.
When the audience had recovered, the show resumed and finished with The Guy slowly undressing to the throb of a didgeridoo, removing his fedora hat to reveal tangled locks, taking a spear from the wings and becoming an aboriginal shadow in the setting sun. This was marvelous stuff. Man had seen shadows illuminated on cave walls by fire since the earliest times, and Noel was exploring modern and complex means of choreographing them.
 This had a strong influence on Bruce's later linocuts, which he has described as 'silhouettes or shadows highlighted with engraving'.
Bruce and Kate spent 1974 traveling in Southeast Asia: Bali, Singapore, Bangkok, Laos, Nepal, India and Pakistan. Entranced by life in the tropics, they decided on their return to Australia to live on the Northern Beaches of Sydney. There were interesting and cheap beach houses to rent, palms, banksias, angophora, birds and an interesting community of artists, film-makers and surfers.
Bruce was impressed by an exhibition 'A Survey of Australian Printmakers', that he went to see in 1976 at the Ward Gallery in Glebe Point Road Sydney, which showed the work of Australian artists from 1900 to the 1950s.
B.G.: I was inspired by the images of Australian flora and fauna and the quality and power of the works by the best practitioners of the period: Thee Proctor, the Vortices, linocuts of Claude Flight's Grosvenor School, Vera Blackburn, Adelaide Perry and Eric Take. A standout was the bold woodcut of banksias by Margaret Preston, black ink on cream paper, toughly incised, redolent of the savage cones and serrated leaves after a bushfire.
Nicholas Draffy, then curator of prints and drawings at the Art Gallery of New South Wales, published his book 'Australian Woodcuts and Linocuts of the 20s and 30s' in 1976, which reinforced Bruce's interest. An antipodean form of American and English Abstract Expressionism dominated the post-war period; 'floral still life' was budged unfashionable and decorative. Now, this aesthetic was re-emerging in the 1970s through recognition of these skilled and powerful images.
Bruce had found a medium that suited his artistic and still itinerant lifestyle. He bought squares of linoleum, cutting tools, ink, Japanese paper and a bamboo printer's barren.
B.G.: The first linocut I did of a couple of Banksias cut from the garden looked quite Preston's, hard to avoid when you have the same subject and are working in a similar medium, but I was thrilled with the result. Currawongs, magpies, kangaroo, strelitzias, iris, anthropomorphic birds and neo-expressionist figurative works followed, punctuated by spiky banksias and waratahs.
The prints mounted up as Goold developed his style and proficiency. In 1979, Leo and Anne Schofield offered Bruce his first exhibition of linocuts at the Queen Street Galleries in Woollahra. The show resembled a 1930s salon; an antique glass showcase displayed the lino tools and printing paraphernalia, a large vase of wildflowers resplendent on the desk.
B.G.: A wave of nostalgic patriotism mixed with a bemused hilarity at the more curious images filled the gallery on opening night. There was a huge crowd; Rex Irwin had a Hockney show opening the same night on the next level, so the throng combined and my prints sold well.
After further exhibitions at Paul Craft's Gallery in Melbourne and Rex Irwin in Sydney, during the 1980s and 90s Goold showed at the prestigious Josef Lebovic Gallery specialising in works on paper. Josef describes Bruce as:
'My stable of one, the only living printmaker I have represented. His approach
whilst mirroring that of established printmakers such as Margaret Preston, is more direct, freer, more immediate, his hand-colouring fresh and vibrant.
A PLETHORA OF PROJECTS
Mo 1987
Hand coloured linocut  70 x 40.4 cm
Mo, Roy Rene, vaudeville & radio comedian
In the 1980s Goold worked with Arthur and Gabrielle Karvan on the interiors of the famous (infamous) Arthur's nightclub in Victoria Street. He painted the mural surrounding the dance floor from the 50s Decca record cover for 'Dancing in the Dark' and designed elegant sandblasted curtains for the mirrors in large rococo frames for the main dining-room.
B.G.: I remember working through the night towards the opening when we realized that there was no Arthur's logo: I signed 'Arthur' over and over again until a signature with suitable panache was achieved, and placed it over Letraset spots to match the decor. I'm sure most thought it was the signature of Arthur Karvan himself!
In 1986 Bruce was commissioned over an eighteen month period to produce linocuts to illustrate the wild-life articles by naturalist Nick Drayson for the Sydney Morning Herald 'Good Weekend' magazine, resulting in a popular series of images of birds, animals and insects, which he later exhibited
The breadth of Bruce's talent was recognized when curator Peter Emmett involved him in the Bicentennial Traveling Exhibition which toured throughout Australia in1988. This collaborative project entailed commissioning the work of over three hundred of Australia's best artists, designers, photographers and filmmakers.
The exhibition was housed in a series of special pantechnicons, the overall design by architect Daryl Jackson. The Goold 'Identity' Pavilion featured friezes of waratahs and wattle embellishing museum showcases displaying Ned Kelly's helmet, Lloyd Rees's painting equipment, sports memorabilia including the1956 Olympic torch, and the Golden Slipper and a collection of famous hats belonging to Nelly Melba, Henry Lawson, Roy Rene (Mo) and Dame Edna Everage. Bruce designed posters; screen printed magpies on canvas for the tent show hoardings; created kangaroo and boomerang-shaped chairs and caused a plethora of Australian icons to be recreated.
In 1989 the Harbourside Festival Market Place in Sydney's Darling Harbour became the venue for an important Bruce Goold terrazzo design of currawongs and native berries. This was part of a complex project, art-directed by David Humphries and his Public Art Squad. Humphries who has known Bruce since their art school days, commissioned Bruce to adapt one of his linocuts to fit the circular foyer. He felt the hard-edged quality of the linocut leant itself to translation into terrazzo
B.G.: I had hoped to place the yellow glass eyes of the currawongs into the black marble aggregate on site myself, but the union wouldn't allow it. However, the Italian craftsmen did a superb job.
Bruce also designed metal gatesto seal the entrance foyer off at night, using the same currawong shapes in the form of musical notes, which were laser-cut and set on curved metal staves.
Winning the competition to design the poster for the Bicentennial Festival of Sydney added to a portfolio of Goold's poster designs which included 'Powerhouse, Ultimo', a linocut commissioned to celebrate the first anniversary of the Powerhouse Museum in 1988 and screen-printed in limited edition.
As most of this work was done for the Bicentennial, Bruce began working towards his exhibition to be held at the England & Co Gallery in London the following year. The Solander box of one hundred and twenty hand-coloured linocuts was shipped to Ireland where Bruce and family stayed in Dublin with the Sheridans. Bruce, Kate and 11-year-old daughter Nancy arrived for the opening of Rosc, an international art event that enveloped the city. Bruce had never been to Europe. It was a revelation. Noel Sheridan was Director of the National Art School in Dublin so Bruce had access to the school's fabulous print-making room, antique presses and hand carved sets of wooden type.
After six months in Ireland the Goolds moved to London with additional prints made in Ireland for the London show. Fittingly an Australian exhibition in the Bicentennial year garnered great publicity and commercial success. Ensuing commissions for Bruce included an illustration for The Observer magazine (on the obscure science of iridology), several covers for the Serpent's Tail Press including Voice of the Moon, Ermanno Cavazzoni's novel that became Fellini's last movie, and a commission by Penguin books to illustrate The Jumping Jeweler of Lavender Bay a 1950s cult novel by Hugh Atkinson.
Bruce had already done illustrations for The Patric Juilliet Cookbook, covers for three Kylie Tennant novels and a collection of Darcy Niland short stories and illustrations for Banjo Patterson's Poems of the Bush. Bruce was influenced by novels told in woodcuts from artists such as Lyn Ward, Frans Masereel and Rockwell Kent.
In 1990 Bruce, Kate & Nancy returned to Australia, renting the apartment above the old Palm Beach Post office and the one time barber's shop downstairs as Bruce's studio. His first job was to paint a large mural for the Beach Road' restaurant in Palm Beach, the latest in a series of commissions for restaurateurs Brian Sudek and Annie Parmentier, amongst which were: The Scullery in Avalon, The Clareville Kiosk, the Palace Hotel in Surry Hills  (where he created a number of 'Pub Paintings' on the exterior), and more recently the historic Palisades in The Rocks precinct.            
MAMBO & OTHER FABRICS
Frangipani, 1995
Mambo 'Loud' Rayon shirt
Dare Jennings, founder of the iconic Mambo label, had seen one of Bruce's prints at Josef Lebovic's gallery, an image with a jazzy rose print in the background. Mambo were printing radical fabrics at the time, startling to this day. With this in mind, he asked Bruce to design a rose fabric and the art deco Woodcut Rose pattern came into being. Dare, an innovator, took a risk and printed Sunflower yardage based on a linocut version of the 'Van Gogh Sunflowers' design and used for the title wall of the Art Gallery of New South Wales Yellow House exhibition. Bogong Moths followed, completing the trilogy of fabrics launched on the smart Mambo stand at DesignEx in1990. Much in demand, Bogong Moths fabric was seen in the foyer of the Australia Council offices on their Anibou 'Longreach' couches and was chosen recently by the Powerhouse Museum curators as a key fabric for their 'Inspiration' display, and as one of the top twenty-five designs in their collection.
Bruce went on to design 'Loud' rayon shirts for Mambo, a take on the popular Hawaiian 50s style using Australian imagery. Bruce's designs, rather than adhering to the surf-oriented Mambo manifesto, were tropical and quirkily decorative. His last shirt was designed for the Olympic year 2000, and then the company changed hands.
Bruce's interest in fabric had been inspired when he saw an illustrated catalogue of Australian artists commissioned by Claudio Alcorso, from Silk and Textiles, to design fabrics for his 'Modernage' range. This innovative project launched in 1947, was the first artist-designed range to be printed in Australia, and was greeted with much acclaim as previously most Australian manufacturers had been content to copy designs from overseas. These narrative prints by artists including Russell Drysdale and Margaret Preston did not sell well at the time but are now highly collectable.
The lack of use of our unique flora and fauna on decorative fabrics had inspired Bruce in 1981 to design 'Waratah', 'Wattle', and 'Magpie', all based on linocuts and silk-screened on hand-loomed Indian cotton, for the innovative Australian Emporium 'Coo-ee', opened in Paddington by Louise Ferrier and Adrian Newstead. Bruce designed their stylish boomerang shaped counter as well as the fabrics; printed T-shirts and scarves, and designed the logo of a currawong calling 'Coo-ee', aboriginal for ''come here''. He had also painted silk costumes for the fabulous Jenny Kee and Linda Jackson 'Flamingo Park' fashion parades, some of which are in the Powerhouse Museum collection.
For 'Practically Art', an exhibition of artist-created useful objects at the Mary Place Gallery in1997, Bruce designed monochrome fabrics using a restricted palette, making them more consistent with the appearance of authentic block prints: Banana Grove, Bamboo, Rattan. This was a grass-roots look, more like the Raoul Dufy fabrics he had long admired – a different stamp to the more edgy Mambo approach. Though Bruce has a large collection of designs, as they are hand-printed they are not widely available commercially. Those in the know have sourced them, sometimes in the form of lamps and cushions, at the fabulous Palm Beach shop, BOW-WOW whose proprietor Susan Bowden is a long-time supporter of Bruce's work.
TROPICAL HEDONISM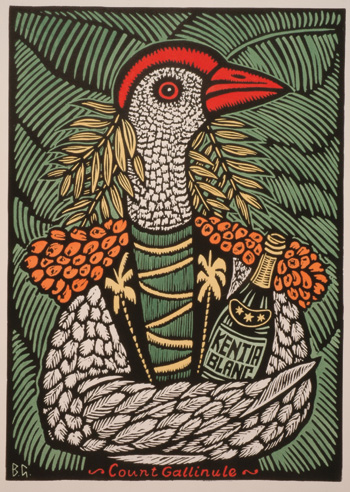 Banksia, 1976
Linocut 25 x 25cm
In 1990, Lord Howe Islander Phillip Whistler bought a small resort perched on the southern edge of the island, and invited Bruce to design and refurbish the interiors for the renamed Capella Lodge. Bruce, of course, became involved in every aspect of the renovation: designing an appropriate fabric 'Cargo Net and Shells' for the bedspreads and cushions; creating a striking inlaid lino mural, featuring the famous flying-boat, for the bar; and decorating, in what he dubbed 'Robinson Crusoe Style'' found marine objects mixed with tropical plantation furniture. During his many visits to what Bruce calls 'this island Eden, a beachcombers paradise', he sketched the native kentia palms and gathered ideas for a collection of Lord Howe images including the SS Makambo print, now in the collection of the Australian Maritime Museum.
It was here also that Bruce first met Ian Kiernan, who'd sailed to his favourite island many times, and this led to Bruce's working on the new Lord Howe Museum and designing posters for the 'Clean–up Australia' campaign. The new owners of Capella Lodge have continued to work with Bruce, and in 2008 commissioned a logo and prints for their new venture, Southern Ocean Lodge on Kangaroo Island.
Bruce's love of what design writer Davina Jackson called 'Tropical Hedonism' could include other commissions, most consistently with Bali-based, ex-Sydney tropical landscape artist and designer Made(Sorry Michael, this should have a grave accent on the a!) Wijaya (Michael White) who commented that, 'in the tradition of 1950s Hawaiian designers, Bruce looks intensely at nature when searching for inspiration'. Working with Made, Bruce has designed fabrics for 'The Tropical Shop' in Bali, graphics for a resort in Fiji, and, in 2004, mosaic murals for the Taj chain in Mumbai.
MORE GOOLDIANA
The 2000 Olympic Arts Festival was cause for a Goold designed poster for 'State of the Waratah', an exhibition sponsored by the Sydney Royal Botanic Gardens, and held both in the Gardens and at the SH Erwin Gallery. In this exhibition Bruce exhibited his suite of five stylized Waratah images.
The Sydney Town Hall already had a comprehensive collection of Bruce's work, to which they added this suite, and in 2003 commissioned a set of large prints specifically for the Lord Mayor's corridor, worthy companions for the much admired designs by acclaimed nineteenth century artist Lucien Henry. Curator Margaret Betteridge notes in her recent book 'Sydney Town Hall' that Bruce's prints 'respected the high Victorian architectural decoration of the interiors but interpreted 21st Century Australia'.
Bruce continues to create fabrics and limited-edition prints, to design furniture and logos, to paint and to sculpt, and is always on the lookout for a new mode of expression in his objets trouvés assemblages. He has taken part in a wide range of group exhibitions: the 1998 travelling exhibition 'Escape Artists – Modernists in the Tropics', which travelled throughout Australia; 'Flagging the Republic' organized in association with the New England Regional Art Museum and held at Sydney's Sherman Galleries, in 1988, and 'Wild Nature', inaugurated by the Jam Factory and travelling from 2002 to 2005
Bruce's last solo show was Bruce Goold - Artist • Designer • Printmaker,
Manly Art Gallery & Museum, 2008, curated by Therese Kenyon.
As the English film producer Jeremy Thomas (Bertolucci's The Last Emperor and The Sheltering Sky) a collector of Bruce's art and textiles has been heard to say when holidaying in Australia: I think we need some more "Gooldiana".
Hear, hear!
Rosie Nice, 2008
Reproduced in the catalogue 'Bruce Goold - Artist • Designer • Printmaker, Manly Art Gallery & Museum, 2008, ISBN 978 0 9804889 3